News From HRDC
BEC Training
Held on Tuesday 26/02/2019 this training focussed on Innovation and ran to the theme of getting off the treadmill. This was first of many to come activities being held in our HM Hub Innovation centre in Neill Street.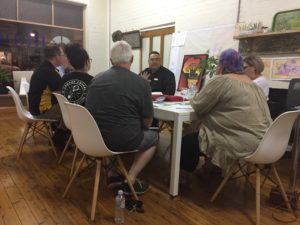 "Thank you HRDC for hosting Randel and Andrew from BEC. The evening was informative and inspirational looking forward to the next three sessions."
Regards, Angela Summerfield – Bridec Building and Construction
Sponsors
HRDC gratefully acknowledges the following organisations for their support and assistance in our mission of increasing the economic, social  and emotional wellbeing of our community. Please support them as they support us.

Principle Sponsor Workplace Wellbeing Program
Partnerships and Collaborations
Southern Region Business Enterprise Centre