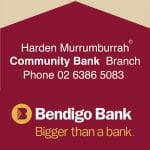 HRDC RELEASES STAGE TWO PACKAGE FOR HARDEN-MURRUMBURRAH BUSINESSES
Harden Regional Development Corporation, in conjunction with the Bendigo Community Bank and Kruger Trust, today announced a second stage stimulus package for local business and sporting groups of the Harden Murrumburrah region.
The stimulus package is a three-tiered support offering that will deliver financial aid to those businesses that have been affected by the restrictions set out during this uncertain time.
Chair of HRDC Richard Fleming said that, like State and Federal Government, HRDC is putting its shoulder to the wheel to assist local business during this difficult time.
"Earlier this week HRDC announced its first stage assistance package which centred around business assistance and marketing business changes for the Harden Murrumburrah area, but now I'm pleased to announce a Stage 2 Financial Stimulus Package.
"We know that our community is feeling the pressure of these COVID-19 restrictions and we hope that this stimulus will support local business and compliment those already set by the State and Federal Governments.  We will continue to stand shoulder to shoulder with our local businesses during these tough times."
"Each round of the package will be open for a week, and we have done that purposefully to allow resources to be distributed quickly and give some solace to affected businesses."
"I must take this opportunity to thank the Kruger Trust and Bendigo Community Bank for partnering with HRDC on this initiative"
Funding applications will be open on Monday for the first round of the stimulus package and can be found at www.hrdc.org.au.
HRDC CEO Chris Ireland said that due to applications being open for such a short time the application is entirely online, and a simplified process.
"We know people are stressed and busy trying to manage their business and keep up to date with the quickly changing circumstances, so we have made the application process streamlined and very user friendly. It's a totally online system which should take businesses less than 30 minutes to complete."
"I encourage anyone seeking support to call the HRDC offices on 02 6386 5536.
Rounds

 

Who Can Apply?
What can you apply for?
When does the round Open
When does the round close?
Round 1
Local Businesses that have been directly impacted by the Federal Government restrictions (Pubs, Clubs, Cafes, Restaurants, Gyms and Beauty Therapists)

Can apply for up to $10,000.

Monday 30 March 2020 (9am)
Friday 3 April 2020 (3pm)
Round 2
Local Businesses that can show a 50% loss of trade from the Federal Government restrictions

Can apply for up to $5,000.

Monday 6 April 2020 (9am)
Friday 10 April 2020 (3pm)
Round 3
Local Sporting Clubs impacted by the Federal Government restrictions

Can apply for up to $5,000 for new equipment to entice increased membership and activities when restrictions are lifted.

Monday 13 April 2020 (9am)
Friday 17 April 2020 (3pm)
ENDS
For media enquires please contact Chris Ireland – 0407 158 896.
To download a copy of the Press Release please click the link below